Part-Time Faculty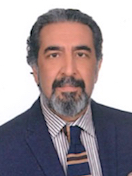 Mehmet Nadir Erhan, Lecturer (Part Time)
Academic Degrees
B.S., Middle East Technical University, Industrial Engineering, 1985
Email:

Schedule
Research Interests
Systems thinking, design thinking, supply chain management, corporate performance management, strategic planning, total quality management, business process management, management information systems, enterprise resource planning, health informatics, health management systems, health economics, public management systems.
Funded/Sponsored Research and Industrial Projects
Re-Structuring Program for Healthcare Finance Infrastructure for development information infrastructures required for health services payment systems, activity-based budgeting and drug-medical device management as a part of "Health Transformation Project".
Re-organization of Drug and Pharmacy Authority system: for Turkish Drug and Medical Device Agency, upon a CTD based Licensing Work Flow Management System.
Electronic Healthcare Payment Execution Suite: as a part health reform project for SSI for supporting the universal health insurance execution with rule-based system, ensuring eligibility checks for patients, providers, treatments, medication.
Electronic Procurement Platform for Healthcare Sector: based on the capacity created after e-health reform for ensuring full governance of public over health procurement for price stability, product integrity and market surveillance.
Turkish Armed Forces Military Integrated Healthcare Automation System, is a holistic management information system developed against the peace and wartime requirements of military health operations.
Integrating the Healthcare Enterprises within Sağlık-Net within the National Health Transformation Programme.
Education of the Hospital Information System (HIS) vendors on HL7 standards, and the Clinical Document Architecture (CDA), on the Sağlık-Net Web Services, the National Health Data Dictionary (NHDD), and the business rules.
The Republic of Kazakhstan; the Kazakhstan Health Technology Transfer and Institutional Reform Project is an initiative co-financed by the Government of Kazakhstan and the World Bank.
The Republic of Kazakhstan; "Supporting implementation of the national mandatory Social Health Insurance system" project is an initiative co-financed by the Government of Kazakhstan and the World Bank.
The Republic of Kyrgyzstan, E-Health Reform Project: For strengthening the health financing reform, Kyrgyzstan government development of e-health platforms shall extend the governance of public authority over drug and medical device market.
The Republic of Uzbekistan, Health System Strengthening Project; with Asian Development Bank (ADB) announced its support to the Ministry of Health (MOH) of the Republic of Uzbekistan to strengthen their health system through an electronic healthcare development project.
The Kingdom of Saudi Arabia King Fahad Medical Centre, IHMIS implementation for a large public hospital: King Fahad Medical City is a benchmark healthcare provider sought by medical cities which offer Grade-4 Medical Services and combine specialist medical services, scientific research and academic development all together.
The Republic of Macedonia Ministry of Health: Assessment of Health System in Designing and Implementing Hospital Payment Reform.
The Republic of Rumania Social Insurance System Project: A complete solution framework platform had been implemented for the Health Insurance Institution of Defence, Public Order, National Security and Court Authority (Casaopsnaj).
The Kingdom of Norway Ministry of Health E-Health Improvement Project: The Kingdom of Norway National ICT Board of MoH invites TCHEALTH to present the Turkish experience as a prospering model for defining a baseline for improving scattered and fragmented electronic health records installations through Norwegian health system.
The Republic of Bulgaria, Ministry of Health, Health System Strengthening Project: aims to increase the impact of funding in several priority areas that meet the utmost national priorities in the health sector arising from international, European and national agreements and legislation in Bulgaria.
Development of Common Electronic Health Records for Cross-Border Health Management of Immigrants and Refugees
Development of Universal Health Insurance Schema Adoption System upon Electronic Patient Records of Immigrants and Refugees
Development of Integrated Primary Health Care Services Information System Model for Immigrants and Refugees Settlements
Development of micro-economic analysis based intelligent pricing tool for healthcare providers under broken competition markets. Completed as of 2016.
Development of Software Development Platform and Design Pattern for healthcare domain. Completed as of 2015.
Development of automated pharmacovigilance system for pharmaceuticals compliant to national and international practices. Completed as of 2013.
Development of software capabilities for healthcare providers on costing and financial analysis. Completed as of 2011.
Text Mining in Medical Reporting (with METU Institute of Informatics and Hacettepe University). Completed as of 2011.
Development of Mobile Clinical Assistant – Mobile Point of Healthcare Project), EU FP6 Project with METU Institute of Informatics. Completed as of 2009.
Development of Corporate Electronic Health Records. Completed as of 2008.
Development of Interoperable Medical Health Records under HL7 semantics. Completed as of 2008.
A Semantic Web Service-based P2P Infrastructure for the Interoperability of Medical Information Systems. EU FP6 Project with METU Institute of Informatics. Completed as of 2010.
Intelligent Healthcare Monitoring based on Semantic Interoperability Platform, EU FP6 Project with METU Institute of Informatics. Completed as of 2008.
Technology Transfer and Design/Development programs (INS systems for various airborne platforms with LITTON and RAYTHEON, STINGER Air Defence system with DORNIER, GENERAL DYNAMICS, PHILLIPS, Night Vision systems based on Image Intensifying technology, Thermal Imaging systems for land and airborne platforms with LITTON and TEXAS INSTRUMENTS, Laser Guided Munitions systems with BAE).
Academic Activities
Visiting lecturer for Industrial Engineering Departments of
Middle East Technical University (1985-1990)
Bilkent University (1992-1993)
Eastern Mediterranean University (1994-1994)
Başkent University (1999-2005)
Çankaya University (2017-ongoing)
on topics: business process management, enterprise architecture, systems and design thinking, technology management, TQM and productivity management, business process reengineering, management information systems.
Professional Activities
Member of Top Management since 2007 for TCHEALTH Information Technologies with prime responsibility on business development and research.
Director and engineer at ASELSAN Inc, for various functions between years of 1985 and 2006
Member
Institute of Industrial and Systems Engineering, 1987-
Turkish Society of Operations Research, 1987-
Turkish Society of Informatics, 2000-
Turkish Society of Health Informatics, 2010-
Defence Industry Manufacturers Association, 1996-2005
METU Alumni Organisation
Ankara Atatürk Anadolu High Graduates
Contact
Address:
Çankaya University
Department of Industrial Engineering
Eskişehir Yolu 29. km
Yukarıyurtçu Mahallesi
Mimar Sinan Caddesi, No: 4
Etimesgut, 06790, Ankara, Turkey

Phone: (+90 312) 233 1360
Fax: (+90 312) 233 1026
Email: