Chair's Welcome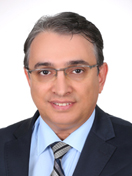 Dear Students,
Welcome to the Department of Industrial Engineering at Çankaya University, which is one of the first two engineering departments established in 1997 in the Faculty of Engineering, and the second industrial engineering department among the non-profit private universities in our country, by producing undergraduate program graduates in 2001.
Our aim, with all of our qualified and experienced faculty members in our field, is to bring our precious students to the targets in our Department's mission. We believe that you will demonstrate your required effort by working correctly and systematically to achieve these goals, taking into account the importance of time throughout your university life.
Remember that in order to be successful in your business life, the vocational education and training in our University will not be enough. In addition to have knowledge in the field of industrial engineering, you should also try to be an intellectual person who has acquired knowledge in different professional fields and has developed himself or herself in a multifaceted way. You should also develop yourself in a social, cultural and sporting way. For this purpose, I recommend you to be a member of the student clubs that are active in our University, to make use of the facilities of our sports center and to make good friendships among you.
It is possible to reach the regulations of the Council of Higher Education in Turkey and all the regulations and directives of our University from the Regulations section of the Library page in our website. In particular, reading "Çankaya University Associate Degree and Bachelor's Degree Education and Training Regulations" and "Student Discipline Regulations of the Higher Education Institutions" as well as other regulations and directives that are of your interest is your benefit.
Each student is assigned to an academic advisor who is a faculty member of the department. The list of these academic advisors is announced at the beginning of each semester in our website and is posted on the Department notice boards. You can talk to your academic advisors about any issues and problems related to your academic life, and you can get guidance for solving your problems. Remember that the office doors of all the administrative and academic staff of our department will always be open to you.
I say welcome to you all again, and wish you a successful and happy university life in Çankaya.
Yours affectionately,
Assoc. Prof. Dr. Ferda Can Çetinkaya
Department Chair
Contact
Address:
Çankaya University
Department of Industrial Engineering
Eskişehir Yolu 29. km
Yukarıyurtçu Mahallesi
Mimar Sinan Caddesi, No: 4
Etimesgut, 06790, Ankara, Turkey

Phone: (+90 312) 233 1360
Fax: (+90 312) 233 1026
Email: